I'm A Model (You Know What I Mean?)
Saturday, 10am: I received a text message from my photographer friend, Dave Fabros.
Dave:
Are you up?
McVie:
Yup, I'm up, what's up?
A few seconds later my phone rang.
Dave: "You know, of course, that we have a photo shoot party today, right?"
My mind froze. Oh holy shit. Sacred feces! He told me about this earlier this month.
McVie: "I'm really sorry, Dave, I
forgot!
You know how it is with my work here, it can get hectic so I forget things." Besides he never really followed it up with any reminder or confirmation, so it's understandable why I have forgotten all about it.
"That's okay, don't sweat it," Dave said. "Just try to make it at 1:30pm, same place as before. If you can't bring some of your friends over, it's alright. I'll see you later."
Dave holds these photo shoot "parties" as an ingenious way to hone his craft and network, both professionally and personally. Meanwhile, gays, faggots, homosexuals, bisexuals, bi-curious ones, and straight-guys-who-are-in-a-committed-relationship-with-another-guy(!)* who've always wanted professional-looking photos in their accounts in Friendster, Downelink, Connexion, Tickle, and their ilk can now have them without paying an arm and a leg.
*(
Pramis, true itetch!
I saw this guy's Connexion account, he says he's straight but in the same breath he says that he's in a committed relationship—with another guy! You can even click on his boyfriend's picture and check out his account.)
So that's how I ended up helping out in Dave's photo shoot and how, after everyone else's photos were taken, Dave had me pose for some shots. Since I never really thought I'd be facing the camera that afternoon I didn't bring a change of clothes. Thus the
lukot-lukot
shirt look.
I've seen your picture
Your name in lights above it
This is your big debut
It's like a dream come true
And when you smile for the camera
I know they'll love it
— Steele Dan, "Peg"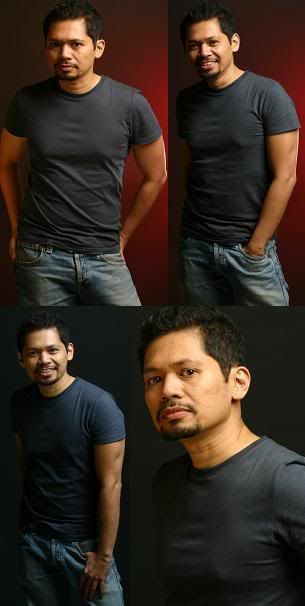 Photos by David Fabros. For more info, visit his website here. For more of my vanity fair, visit The McView Point.