A Different Bed Experience
Over the weekend Katski and I repeated something we did about a year ago—stay overnight at Sonia's Bed and Breakfast in Tagaytay. Nestled away from the highway, Sonia's is a blissful oasis, a retreat from the hectic city life. It's not inexpensive, but luxury like this is sometimes worth spending for, at least once in a while.
The road leading to the cottages, lit up for the coming twilight. Our cottage is the one on the right—our room is the one on the ground floor. Upstairs is another cottage, occupied by a foreign couple over the weekend.
I love their bathrooms—pebbles instead of tiles on the floor, huge windows. Very Zen.
The cottage we occupied had two huge beds. Katski occupied the bigger one; I preferred the smaller one in the corner.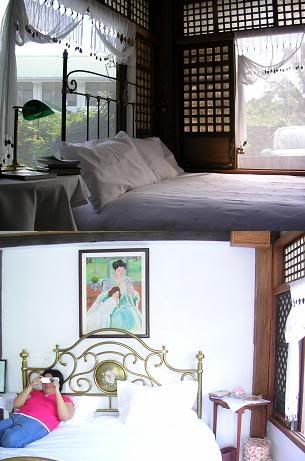 There was also an alcove with a day bed and a lounge chair. That's where Katski and I stayed to brainstorm on a photo party for TA. We drank Mudslide (vodka and cappuccino, vodka and chocolate) during our brainstorming.
There was also a small bedroom to the right of the alcove, complete with its own bathroom. Cool.
Sonia's has great accommodations. The food is also great, but unfortunately they don't change their menu. So what we had for dinner and breakfast was exactly the same as a year ago (salad and pasta for dinner; adobo, fish, mushroom-and-cheese omelet, fried rice for breakfast). It's no surprise that guests have stepped out to eat lunch and dinner somewhere else. So a weekend at Sonia's is best spaced far and in between.
All in all it was a most relaxing weekend for me. I got to go on a long drive (I find long drives relaxing), stayed at a very cozy cottage, got around 8 hours of sleep (with an afternoon nap to boot, something I rarely do these days) and indulged in a food trip (we had lunch at Antonio's on Saturday, then at Josephine's on Sunday). I thought it was a great way to put a close to my
Bayan-Bayanan
experience. Now it's time to take off my actor's hat, put it back in the shelf and close the cabinet. Maybe one day I'll dust it off the shelf and wear it again; meantime, it's back to the daily regular grind.