Sunday: Neil and Prey
And now for some petty bourgeoisie concerns, as Xander would put it.
I'm a big fan of Neil Gaiman's
Sandman
series, though I'm not too fond of some of his other graphic novels, books and short stories. But my younger brother and sister are huge fans of his, so when news of his Manila visit came out, they were beside themselves. In the spirit of familial love and solidarity, I decided to join them in the book-signing on Sunday at Fully Booked in Greenhills.
We heard stories of how the previous day's book-signing in Makati went, so we decided to line up extra early for the 2pm signing. By 9:30am we were already in line; more than a hundred people were there before us, some from yesterday's signing. I was briefly reminded of college registration days; I'm too old for this, I muttered to myself. A little past 10am they started distributing numbers; we were 121, 122 and 123. Now we could leave the line first to shop and eat.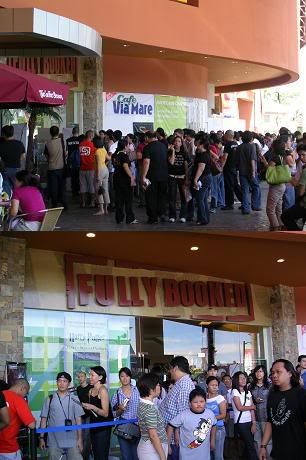 By 1:30pm we went back to line up according to the numbers given to us. While waiting we couldn't help but overhear a conversation with this girl and her female friend. They sounded like college students from some exclusive school (yes I know, unfair hasty generalization). Actually it was less of a conversation and more of a monologue; Loud Mouth Girl was yakking at the top of her voice, oblivious to the crowd around them. Her Quiet Friend let her do most of the talking; she would just occasionally reply or nod her head. Her monologue went something like this:
LMG:
My god, we shouldn't forget this! I mean, lining up for hours just to get his autograph?
QF: (nods her head)
LMG:
God, I was here at nine this morning! Can you believe that? Nine!
QF: (nods her head, then looks around as if searching for someone)
LMG:
We really shouldn't forget this! No writer should forget this! I'm gonna put this in my Live Journal.
I wanted to point out to her, "Do you know what's unforgettable? It's interrupting your friend's sleep to tell him one of our friends was killed in a violent accident. It's jumping up and down in the middle of EDSA after we heard Marcos had left the country. It's carrying your unconscious dad to the car not knowing he had a massive heart attack, and while you're settling him in the backseat, you hear his last breath slip out of his lips." But then she's not even twenty years old. Let her keep her youthful innocence for several more years. She's just acting her age.
Then again, maybe she
is
right. Here I am writing about her and about lining up for Neil.
A few minutes later, Quiet Friend spotted the guy she was looking for; their Male Friend was coming towards them, carrying two bags of takeout from a Chinese restaurant. He wasn't in a good mood; he was full of curses. His dialogue went something like this:
MF:
God, I just got you guys extra cups because that stupid asshole at the counter wouldn't give me extra plates! He's such a stupid, asshole, dumb-ass, jerk!
LMG:
Oh great, lunch! Thank you, thank you dear!
(blows flying kisses his way)
MF:
Here, go eat. Your dumplings are getting cold.
"Dumplings"? Did he just say "dumplings"? Gawsh! Almost everyone I know would simply call them "siomai". Now I really feel so
jologs
and old beside these kids. Then Loud Mouth Girl said something which made me pause in mid-thought.
LMG:
Hey, look what I'm giving Neil!
(holds up a small paper bag)
QF: (breaking her silence)
What's in there?
LMG:
Tuyo and dried mangoes.
Hmmm, I'm not too sure about the
tuyo
, my dear. Actually I'm also not too keen on the dried mangoes idea, but maybe he'll like them. But the dried fish? Good thing she didn't decide to give him
patis
or fish sauce. Well, it's really the thought that counts. I'm sure Neil will appreciate that.
I decided to wander off and stay near the doorway to Fully Booked, chatting with some people I know. After several minutes I turned to see a white hotel car stop near the front and a pale Caucasian wearing a black leather jacket stepped out. He was quickly surrounded by two huge bouncers in matching black t-shirts plus a number of Fully Booked staff, also in black. It was Neil, with The Gang In Black. My inner paparazzi kicked in.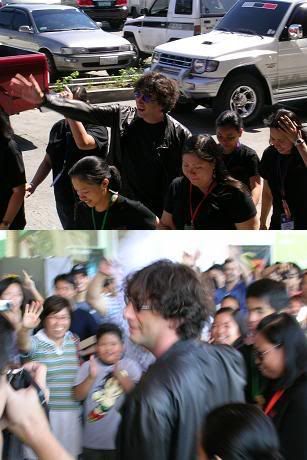 He went straight to the entrance, where they set-up a public address system. He thanked the crowd for attending and said it felt weird to address a crowd in such a set-up (no stage, open-air). It reminded him of similar book-signing he attended in a mall in Texas.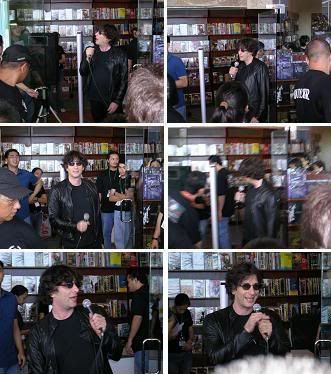 He asked the crowd if they wanted him to read an excerpt from his upcoming book,
Anansi Boys
. Obviously the crowd roared their approval. I wanted to shout, "Naku, pakipot pa 'to!" but decided I don't want to be mobbed so I kept my mouth shut. He proceeded to read a few pages from
Anansi Boys
, the story of a man who, upon the death of his father, found out his dad was the African spider god Anansi.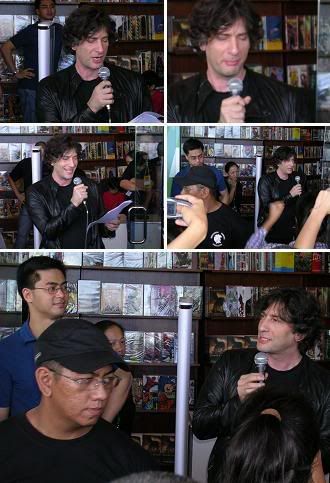 After the reading we hunkered down to the long wait to have our book signed. The signing started at around 2:30pm. At the start the owner of Fully Booked, a very Papa-ble Jaime Daez (he's the guy with glasses and in a blue shirt near Neil in the picture above; notice how I made sure he'll be included in the shot?), announced that they'll stop the signing by 7:30 because Neil asked to be at the hotel by 8:00pm.
As we got nearer to him, we joked, "What if at number 119 he suddenly developed cramps?" We also saw this woman in Muslim garment ahead of us. "What if she's a suicide assassin? 'You think you're a great writer, Neil? Your Ramadan story
sucks
, British infidel!' then she brings out a scimitar and chops Neil's head off." Thank Allah when it was her turn she just gave him a hug then left. He didn't have cramps either. We had our books signed by around 6:00pm.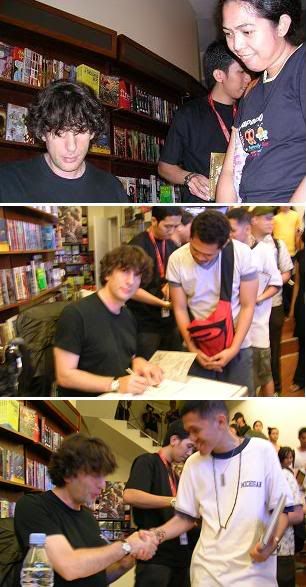 Because by that time Neil's eyes were tired from too many flashbulbs, he requested that we take pictures sans flash. But when I knelt down in front of him ("Watch me kneel in front of Neil!") to take my sister's photo, in my excitement I forgot to switch off the flash. Click! The flash popped as Neil was signing my sister's comic book. "OhmygodI'msorryI'msorryI'msorry!" I was profuse in my apology, but Neil calmly replied, "Oh no problem so long as I'm not looking straight at the camera." Still I said I'm switching the flash off, so when my brother and I had our pictures taken by a staff member, the pics came out blurred because she didn't keep her hand steady enough.
Still we were able to get what we wanted. Two of the comic books he signed are special issues, "Ramadan" and "Orpheus". Both are in pristine condition; with Neil's signature, their value will rise through the years.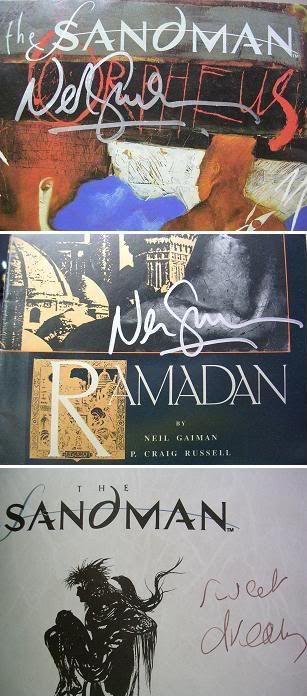 In my copy of "The Dream Hunters" Neil wrote, "Sweet dreams."
*More pictures to be posted in The McView Point