Little Girlie Lost
There's a restaurant along West Avenue, Quezon City which we really like. The food's great, the price fairly reasonable. We like their
laing
,
binagoongang lechon kawali
and
liempo ala bacon strips
. But we also like going there because their second floor is haunted.
First time we found out from a waitress. We wanted to go to the second floor because the ground floor was already crowded, but she said the area was closed. We joked,
"Ay sus, siguro may multo doon, ano!"
and to our surprise she replied, "Yes."
Ngyek.
The most active one is the ghost of a little girl whom they call Girlie. They believe she's the one in the old painting by the corner.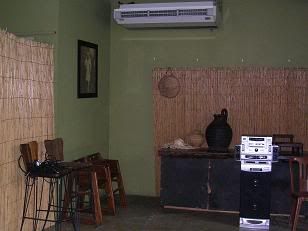 Girlie's haunted corner
First time we went to that restaurant, there was a table in front of the picture and on it was a bowl of snacks and some eggs, like an offering. I suppose it was their way of appeasing Girlie. According to the staff Girlie isn't really mischievous; she just shows herself to select customers.
The second time we were there we had Lotta with us. She confirmed she saw Girlie walking around the second floor; at one point she ran around one of our officemates, as if inviting him to play with her. Lotta did not engage Girlie in conversation. Still she sensed Girlie was a lost soul, unaware that she's already dead.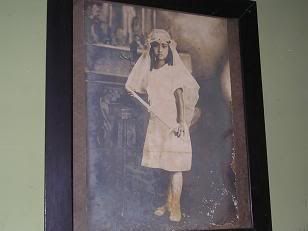 Say hi to Girlie
When I went up to take pictures this afternoon, I was alone. I couldn't get near her picture for a close-up; suddenly the air felt heavier and I got the heebie-geebies. I told myself, "I'm freaking myself out, it's just my imagination," but I skeedadled out of there after taking a shot of the corner. Later on two of my officemates offered to accompany me upstairs, so I was able to take a close-up of Girlie.
Nothing supernatural was captured on camera. Sorry, this isn't the movie
Shutter
.