Wacky Weekend
Happiness is a weekend after staying in sickbay.
Saturday I watched a dragon boat race in the morning, went to auditions in the afternoon, ate dimsum (este, hindi pala dimsum, Chinese longganiza pala, hihihi!) early evening, then went to Bed at midnight. Sunday I played with a kid, had my head straightened out, and bought tickets to some indie film.
* * * * *
J invited me to Manila Bay to watch his team compete in a dragon boat race. It was interesting to see these rowers, all dark and swarthy, mostly sinewy men (and women, but I ignored them) all converged in one area. I got dizzy with the heat and all that testosterone. While waiting for the finals, I saw the Phil. Navy team lounging around a shaded area, looking bored and uninterested. One took off his shirt, and I could see that lovely tuft of hair leading down to his crotch—I call that the hairline to heaven. I decided to position myself there to watch the racers, not the race. When it was the Navy's turn to compete (the military teams had a separate race), they stood up and did some no-fuss stretching; some were even just going through the motions of stretching. But when the starting gun fired, they were a team transformed. They breezed through the finish line way before their nearest rival. One could tell they put a lot of power and speed in their rowing, but they made it look so effortlessly. I was singing "In The Navy" in my head as they disembarked their boat and went back to their waiting spot. I just love sea men!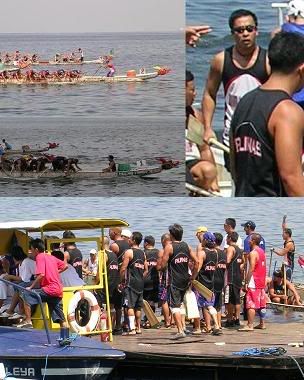 J's team won third place in the finals. They were beaten by a team that had ex-military men with them. Argh! What's with all these men in uniform, ha? They were getting me all hot and bothered! I had to get out of there quickly. Besides I was running late for the auditions.
* * * * *
After the auditions, I worked out for a few hours. Then I had Chinese for dinner. Mwhek-hek-hek.
* * * * *
While waiting for midnight I hung out at Blue Wave along Macapagal Highway in the reclamation area of Pasay. It is a commercial complex housing mostly restaurants, some shops, a spa, and a gasoline station. I was looking at the logo and wondering why it looked strangely familiar. It was only this morning on my way to work that I passed by this construction site that it dawned on me—they're constructing another Blue Wave complex in Marikina! The Petron gas station is already open, as well as Pancake House and the ever-ubiquitous Jollibee.
Midnight found me waiting for J at the Komiks bar beside Bed, drinking Chinese tea (yeah, it just
had
to be Chinese, huh) and observing all these guys lining up to join the Bedlam inside. There's this guy in red who looks just like the actor in the Chinese gay film
Lan Yu
, the guy who played the student. Chinese
na naman.
I'm having dimsum overload. Thank goodness J arrived.
* * * * *
Inside Bed, I was having my fill of vodka tonic and Vodka Ice when I decided to plant myself in front of the ledge. Suddenly a guy approached me, his face somewhat familiar in a blurred way. "Are you McVie the blogger?" he asked. The first thing that entered my mind was, "I'm famous!" Mwhahaha. He turned out to be Imogen. If you check his blogsite, his picture there is intentionally blurred. At least now I've seen him in sharp focus.
We both wondered if Badinggerzie—the Superblogger, the Megablogger, the Blogger for All Seasons!—was in the crowd. We debated whether we should just shout out loud his Punchline of the Week quote from
Dekada 70
?" and see if anyone reacts, but decided against it.
Feeling namin baka sandamakmak ang rumi-act.
Nice meeting you too, Imogen.
* * * * *
On the second floor I saw another familiar face. JJ! And if there's a JJ, there must be a Phillip… and there he was, hidden behind JJ. That Phillip really knows how to hide in a crowd. I dragged them downstairs to where J was.
Chikahan
ever ensued. Later on they went upstairs, maybe to avoid the crush of the crowd.
* * * * *
Dancing on the ledge in Bed is some kind of a Catch-22 thing. On the one hand, you can dance to your heart's content
uninterrupted
because the chances of you being pushed off to make way for another are relatively minimal (unless it's one of Bed's Go-Go muscle Marys, in which case I'll gladly step aside to ogle and drool). On the other hand, you're at the mercy of a roomful of faggots judging you from head to toe, from your looks to your outfit to the shape you're in, to your dancing prowess. Normally when I dance I tend to lose myself to the music especially if I really, really like what the DJ's playing. But the moment the song isn't as grabbing as the last one, I become painfully aware that—dammit!—I need to put on a show without making it
look
like I'm putting on a show.
At least I was able to dance for about an hour uninterrupted. That served as my cardio for the weekend.
* * * * *
Sunday found me doing godfather duties to Leigh's lovechild, Luc. It's amazing what a baby can give to a person. Imagine, someone to love and who'll love you back 24/7. But then he's also
uber
-dependent on you 24/7. One can't have it all, apparently. As godfather I'm supposed to make sure that Luc has a father figure when he grows up. Eeep! Lord give me strength, fortitude, and great acting ability to pull that off. If not… oh my god, save the baby! Save the baby! (How very Rita Avila.)
I was also in a bit of a funk lately and with the heat these days I'm finding it very hard to think things through. So I asked help from Leigh to straighten this gay out. Thank god for friends. I must keep repeating to myself the following phrases:
just a symbol, fear of rejection, safety in distance.
Leigh, I wanna see my pics with Luc!
* * * * *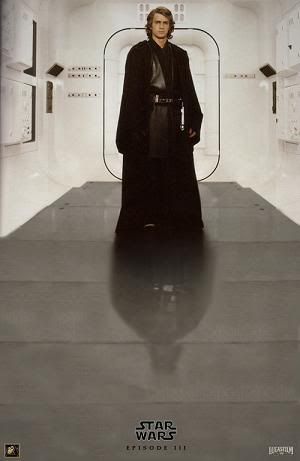 I bought the whole family tickets to
Star Wars: Revenge of the Sith
in Shangri-La mall on Sunday. Shangri-La mall is one of my all-time favorite malls: mostly high-end shops with mostly high-end shoppers, which means the cutie pie quotient is a lot higher than most malls. But don't brand me a bourgeoisie brat; I also like "er" beauties—work
er
, labor
er
, driv
er
, and other
anak ng pawis
types. When I feel like going
masa
, I just cross to the other mall across EDSA, Starmall.
Bongga.
But I digress: Star Wars. I am excited to watch this even though the first two were clunkers. I suspect the reason most critics who've seen it in advance didn't have scathing reviews for the third installment is this: this movie glows because of its close proximity to Episode 4. There's more resonance, the events in Episode 3 impact directly on the original Star Wars movie, a movie most if not all remember with fondness.
But enough talk of resonances. For me the best summary for Episode 3 is the one on Hayden Christensen's t-shirt in a Newsweek photo shoot. It was a silhouette of Darth Vader's iconic helmet, and the words "Sith happens." Hahahahaha!