Can This Be It?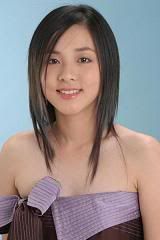 I have never liked Sandara Park. Even when she was still a wannabe-actress in the Star Circle Quest, I felt she lacked the talent to make it as an actress or as a singer. But she kept topping the Texters' Choice Votes. Why? After SCQ she continued to be in show business; instead of fading off into obscurity, she seems to be gaining more fans. And with her movie
Can This Be Love
making a killing at the box office, it is undeniable—she has a hold on the Filipino public. Why?
Let me go out on a limb here: I believe Sandara Park has the potential to be the next Jolina Magdangal. Ack! But her being Korean will also mean there will be distinct differences between the two.
More and more I'm convinced that she has "It", the inexplicable x-factor. It can neither be taught nor created; it can only be harnessed, fine-tuned, and exploited. Like Jolina she has somehow captured the imagination of the Filipino
masa
. Maybe they were looking for their very own San Shai (the
Meteor Garden
heroine). Maybe they liked her combination of beauty and innocent charm. Her very cluelessness seems to work for her; they are very protective of her when she is accused of having no talent. She has talent, they claim, she's just shy to show it. And they easily forgive her lack of English and Filipino speaking skills. She's just being herself, they say. I suspect they found a doll they can call their own; certainly she dresses like one. She's not one of the masses but she certainly belongs to them. Her cluelessness is very natural and makes her funny in an endearing way.
How far can this cute factor take her? How long will this love affair between the Filipino masses and this
bulol
-speaking Korean girl last? Who knows. Is she relevant? Heck, relevance is not an issue here, not when you're dealing with a
krung-krung
girl anyway.
Meanwhile you can snicker all you want at her crooked English and Filipino, her colorful outfits, and her seeming narrow range of facial expressions available at her command. Just remember that she and Hero were the main reason why
Can This Be Love
did more than 20 million in its first week. I bet she's snickering more.