Resistance Is Futile
Especially when dealing with the Borg. As in, Borgy Manotoc.
Last night we went to Government Bar for the launch of the third issue of Icon Magazine. Huge mock-ups of the third issue's cover were all over the place; the cover photo features Borgy wearing only a pair of skimpy briefs and a wide smile. Many of the guys already milling around the dance floor were excitedly waiting for the cover boy to make an appearance. Almost everyone was giddy with anticipation; all except me. I'm not really as gaga over him as I am over Brent Javier but that's because I had no idea how gorgeous he was in person.
Until I bumped into him later that night.
He was with three model-thin girls by the bar. My friend Edsel (who's also with Icon) was already drunk; when he saw Borgy he whipped out his camera and approached him.
"Hi, excuse me, Borgy. Can I take a picture with you and my friend here?" And he points at me.
Aba, gawin pa akong excuse?!
We posed. After Edsel snapped the photo, Borgy turned to me and said, "Now it's my turn to take a picture of you."
Whaaaa—?!
He pointed at my chest. "I just looove your t-shirt!" he said. "I noticed it immediately when I came in. I've been staring at it the whole night."
Borgy, staring at
me?!
In a
gay bar?!
Okay, staring at my t-shirt, pero shet! Shet! SHEEEEET!
* swoon *
So he asks me to hold still while he took a picture of my shirt. Leigh gave me that t-shirt as a gift when she came back from her Bangkok trip. It says "It's a Dog Eat Dog World" and there's a picture of three dogs forming a chain, one dog eating the other's rear end and so forth.
After Edsel took another picture of us, we said thanks and goodbye to him. "Ok dude, be cool," he told me as he shook my hand. All I could do was give him a thumbs up (yaaak, how butch!) and say, "Thanks!"
Haaaayyy! What a gorgeous boy!
Thank you very much for the t-shirt, Leigh. Next time I shop I should drag you along.
Never trust a drunk to take your picture. Wow, pare, blurred!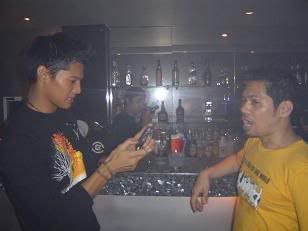 Borgy takes a shot.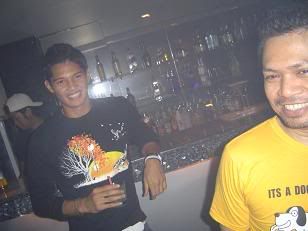 Stay cool daw, dude!