Mister DJ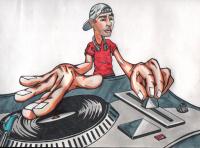 I don't remember the first time I was asked to provide music for a TA party. I think it was back in the early 90s, I already graduated from college, and people knew I had a more extensive CD collection than most. The party was held in this mansion in QC which is often used as a haunted house location by local showbiz. I started with bringing just one Case Logic (I think it holds about 24 CDs). The party organizers often provide the player—often it's just one simple boombox, and I'm forced to eject the previous CD and slip the next one in and fast-forward to the next song all in less than 30 seconds. If I take too long the partygoers start complaining: "
Ano ba yan, ang tagal ng
music!" Several years and several batches passed until someone eventually came up with the brilliant idea of providing two CD players. Of course it was a crude set-up, and the only cross-fading I could do was to manually fade the songs in and out. But then again the TA people are really easy to please—they don't need seamless segues and masterful mixing, they just want to dance to their favorite songs. So more than learning how to mix music, I focused instead on knowing what songs are big hits among the kids of today.
Of course, my CD collection has also grown considerably over the years. Nowadays I lug along the same Case Logic container. But I also bring along a traveling bag (the ones you see at the airport, with the wheels and the folding handle) full of CDs, and one or two (depending on the composition of the party guests) boxes of "just in case" CDs (that's where I place my 80s and other eclectic discs). And I'm proud to say all of my CDs are original copies.
Last Saturday I was the DJ again for another TA party. Since there were a sizeable number of alumni guests belonging to the 90s era, I prepared a lot of early Britney, Spice Girls, late Madonna (meaning, songs from her GHV2 album), and the "greatest TA hits", or songs that even until now are still big hits in TA parties: "Love Shack" by the B-52s, "Sweet Soul Revue" by Pizzicato Five and "Macarena" by Los Del Rio.
For the kids of today, I brought along a lot of current Kylie (I'm sure if I play "Locomotion" or "I Should Be So Lucky" I'd draw blank stares from them), Destiny's Child (and Beyonce's album), Usher, current Britney, Gwen Stefani and Ciara. I noticed that today's pop music is actually hip-hop and R&B. But because these kids also grew up with the music of the 90s, they were singing and dancing along to the Backstreet Boys, N'Sync and Christina Aguilera.
Nowadays they have decent equipment: at least two CD players (with matching speed and pitch control) and a console. But I still don't really "mix" songs; instead, it's all about the playlist—what songs I should play, and playing them in the right order. It means the previous song should segue easily into the next, and that I determine the pace of the party.
For me one of the greatest sounds in the world is when I start playing a song while the previous track is fading out, and the kids squeal in recognition and excitement. Last Saturday evening (actually Sunday morning already) I heard that heavenly sound not once, not twice, but more than thrice! Priceless.
It was worth missing the Madonna night in Bed last Saturday.
(Of course, I always end up "working" during TA parties while everyone else is having fun. My next goal: I upload my playlist in my iPod, and let it play. That way, I can also dirty-dance with the kids. Hehehe.)