The Men In My Past
Chatting with someone online got me reminiscing about my childhood crushes, specifically on TV. So in the tradition of my favorite magazine
Entertainment Weekly
, I will list them down. I'll try to make it as chronological as possible.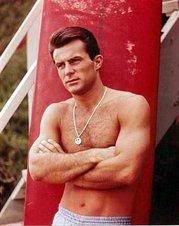 Robert Conrad
in
Wild, Wild West
and
Black Sheep Squadron
In the TV series he played the Will Smith part, although with a more Caucasian-type cowboy bravado (Will's was more of a street-smart punk from Harlem). I was attracted to his piercing eyes which crinkled whenever he laughed or squinted. Plus he wore this ridiculously tight pair of black pants which made me imagine what kind of a gun that cowboy was packing. He surfaced several years later as the leader of the Black Sheep Squadron in this WWII series. By that time I was more enamored with the Corsair fighter planes featured prominently in the series, but his smiling eyes were still just as piercing, just as crinkly.
* * * * *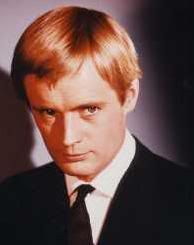 David McCallum
in
Man from U.N.C.L.E.
I don't remember much of the series, simply because it was my mom who was the fan, not us kids. Still, I knew enough that the two leads were spies or secret agents with cool gadgets. David was the blonde one (the other a brunette). As usual, the blonde one was also the younger, more impulsive one (talk about typecasting according to hair color!) who often got into trouble. (Yuck, he looks like a mongoloid in the picture!)
* * * * *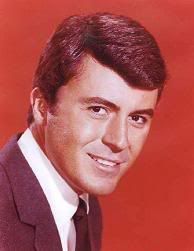 James Darren
in
Time Tunnel
This sci-fi series of the 60s was produced by Irwin Allen, who also produced a couple of blockbuster, all-star cast disaster movies in the 70s (
Poseidon Adventure
and
The Towering Inferno
). But enough about Irwin. James was one of the two scientists who got bounced around from time to time due to the malfunctioning time machine. And though the tunnel was able to bring them back safely several times, they would always, for one reason or another, end up lost in time again. James was the more impulsive of the two, and he had this slick black hair that was shiny with pomade. I was actually more attracted to the visual spectacle of the tunnel, for it literally set off explosions while sending or bringing back an object through time.
* * * * *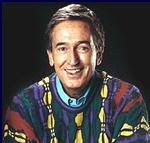 Bob (McGrath)
of
Sesame Street
Bob was the guy with the straight hair and the prominent nose who sang, "Who are the people in your neighborhood?" He had a great singing voice and a very kind face. He looked like he smiled 24-7. He was also the only Caucasian male adult of "crushable" age (the late Mr. Hooper doesn't count). The rest were African-American or Latino. Luis was younger than Bob, but I remember Luis coming in a little later in the series. By the time he arrived I thought I'd be betraying Bob if I shifted my gaze to Luis. I should have just chosen a Muppet, like Guy Smiley.
* * * * *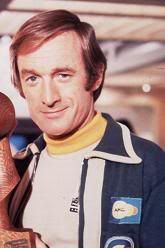 Nick Tate
(as Alan Carter) in
Space: 1999
Nick continues my fascination with blonde guys who are young and impulsive and often get into trouble but are also the emotionally passionate ones. Alan Carter was their fly-boy pilot in Moonbase Alpha who would often jump straight into battle without much deliberation. He was also one of the youngest in the cast of oldies.
* * * * *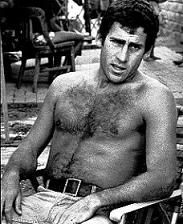 Paul Michael Glaser
(as Starsky) in
Starsky & Hutch
Here come the policemen/detectives. First off is curly-haired Paul. Strangely, I didn't like the blonde one in this due (Hutch, played by David Soul) because he was so damn dull. This cop show flipped stereotype by making the dark haired one the younger, more impulsive guy. Plus he was the owner of one of the coolest, most distinct cars in TV series history (K.I.T.T of
Knight Rider
excluded for obvious reasons).
* * * * *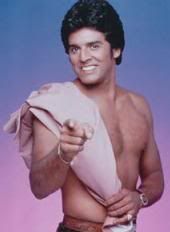 Eric Estrada
in
CHiPs
Another dark, curly haired hunk. His toothy grin was enough to make me swoon. But bless the production designer who made his police uniform one size too small—his thighs and butt were practically bursting at the seams. So whenever he mounted or dismounted his bike—whew! Pant, pant!
* * * * *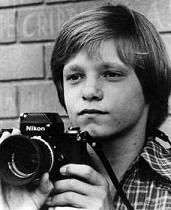 Lance Kerwin
(as James) in
James at 15
This is funny—I never actually saw any episode of the TV series! But Lance was always featured in the local magazine
TV Times
, and his cute smile enamored me. He appeared in the movie "Salem's Lot" based on Stephen King's horror novel, and I braved watching it alone in the movie house just to see Lance.
* * * * *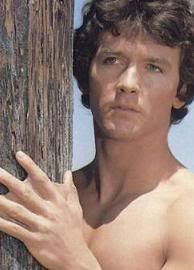 Patrick Duffy
as
The Man From Atlantis
Haaaaaaaayyy!!! First of all, his character was more often than not shirtless, because he's from Atlantis. Next, he swam in this undulating, erotic manner. Third, Patrick was this very handsome actor with these sad eyes; looking into them made me want to bring him home and curl up beside him in bed. But the series didn't last long. After several years Patrick reappeared in "Dallas" but by that time he was older and out of shape.
* * * * *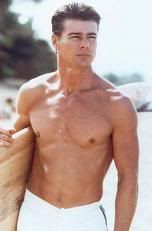 Jan Michael Vincent
in
Airwolf
Another blonde looker, though this time he's not a young man. But I liked this man-in-uniform because he was this loner who spoke little but was a man of action. And having a cool hi-tech helicopter certainly boosted his
pogi
points!
* * * * *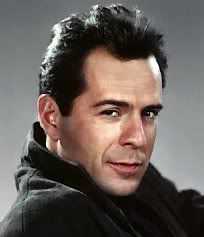 Bruce Willis
in
Moonlighting
His David Addison was a witty, infuriating, dashing debonair who swept Maddie Hayes off her feet. He also had this cutest dimple whenever he smiled or smirked. And at that time he still had a bit more hair. He was for me the epitome of a "bad boy" who actually had a good heart.
Whew. Noticed how I'm also enamored by machines (time tunnel, airplane, cars, helicopters)? That's my butch side showing, hahaha! But more of that next time.