Subic Sniffetz
No start at the start.
The weekend started ominously with Orlando's battery dying on me the night before. I had to call my brother to bring his car over to the office so we could jump-start Orlando and bring him home. So instead of leaving at 9:30am on Saturday, I bought Orlando a new battery in the morning. Xander and I left at 1:30pm for the three-hour trip.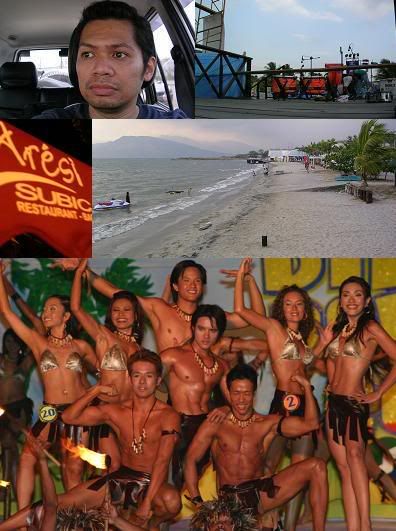 Malungkot ang Subic.
When we got there at 4:30pm, there weren't many people around. It's a summer weekend so I thought there'll be more people. Were they all at the beaches? Or maybe they're in Ocean Adventure? When we visited the contest venue at around 5:10pm, they were still painting the stage. And the show was supposed to start at 6! We steeled ourselves for a really late start.
Nauwi sa pictorial ang mga pootah.
My other TA friends went early so that they can swim at the beach—unfortunately the beaches were too crowded. So instead they had a pictorial session among the rocks at the beach beside the airport. Shet saying, hindi kami nakasali ni Xander. Hindi ako photogenic, and I don't like how I look in 99.9% of my pictures. Maybe I'm just hoping that a professional photographer can do magic. (As if.)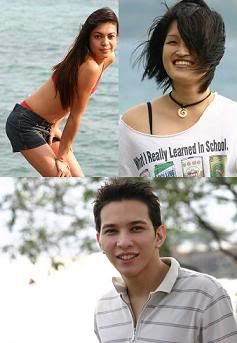 Dinner, interrupted.
We all met up for dinner at Aresi's at 5:30pm, thinking we'll have time for dinner since these events never start on time. But by 6:15pm another friend of ours who went straight to the venue was texting us, insisting that we go in otherwise there'll be no more seats available for us. We asked the waiter to hold our orders until after the show; thank god they granted our request.
Bikini open daw, pero walang nag-open ng kanyang bikini.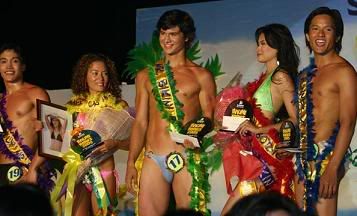 The winners of the Slimmers World Bikini Bodies 2005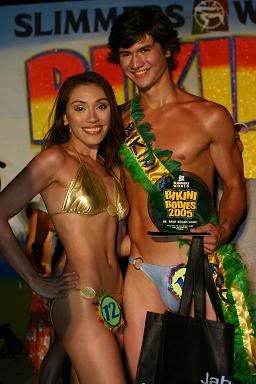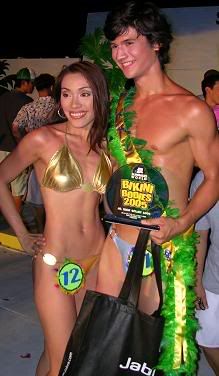 Our friend Marisse with John Daryl, the winner in the men's division.
Would you believe the first runner up in the men's division is just 16 years old?! At uuuyyy, excited si Vhaklhur sa tabi niya!
Paos, pero laos.
We had three favorites among the male contestants, and two of them ended up the first and second-place winners. Among the women we were only cheering for our friend Marisse. Using our theatrically-trained voices, we screamed and cheered every time she came out. We were the loudest, rowdiest cheering squad that night. But all our vocal histrionics were for naught; despite entering the top 10 finalists, Marisse didn't place at all. And we all ended up sounding like Bonnie Tyler sound-alikes.
Memorable signage.
(at a beauty parlor) "Xxx's Beauty Salon. For beautiful hair you've always wanted to be."
Surreal morning.
We had an agreement to wake up early at 8am so that we'll have time to shop before leaving. Katski needed to be in Manila by 2pm for a wedding.
Ka-blag!
At 8:06am, Tina and I were awakened by the sound of Katski slapping her hands on the bed. We turned to see her suddenly sit up straight in bed, look around and shout to no one in particular: "Hala, walang nagising!" Then she went back to sleep again.
Tina and I stared at her then at one another. Then we shrugged and went back to sleep.