Meet The Boys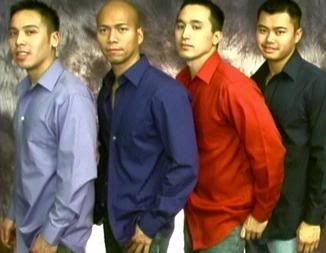 Pramis! I can't get enough of the
Mischievious Boys
. Yes, you read that right, it's "mischievious" not "mischievous" and it's pronounced as "mis-chee-vee-uhs" with four syllables. (Thank you, Lucid Intervals, for introducing me to them.)
Okay, so it's
sooo
five minutes ago to lipsynch and post the video on the web. But if the video of two Chinese-Americans lipsynching to Backstreet Boys' "I Want It That Way" can gain enough popularity (or notoriety, take your pick) to be featured in the local evening news (!), then why can't four hot, hunky Asian Americans have their turn in the spotlight?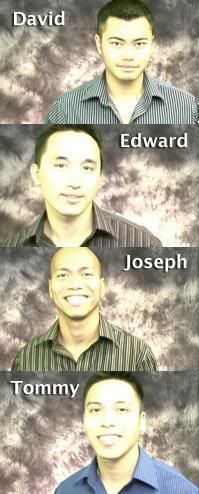 David (Thai) is billed as "the bad boy," Edward (Filipino) is "the heartthrob," Joseph (Filipino) is "the dancer" and Tommy (Vietnamese) is "the funny one." My favorite Mischievious Boy is Edward (I can't take my eyes off of him!) followed by Tommy, who really lives up to his moniker—he is so
makulit
oncam.
The videos made by David, Edward, Joseph and Tommy are neither groundbreaking nor bar-raising, although they're better produced than most "webcam" videos available on the net. They're just
waaay
fun and gay. Why should straights have the monopoly of making fools of them on the internet? Besides there's a wink, wink, nudge, nudge quality to their performance—they know they're having fun with the whole thing. Anyone who takes these videos—whether from the Mischievious Boys or anyone else—too seriously is someone sadly lacking a sense of humor.
What if The McVie Show were to evolve into a video show? Hmmm… stay tuned!