Baguio Episodes
We left Manila at around 11:30pm on a Saturday evening. By 5:30am on Sunday we arrived at the house where we were staying. We got lost a couple of times; we didn't have the exact address of the house, and there were few people awake whom we can ask for directions. But we finally found it.
The House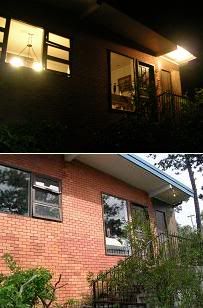 It's an old wooden house, I guess first constructed in the 60s but with subsequent additions to it. but the bulk of the structure is like a wooden cabin.

One enters through the dining and kitchen area; it looks like it's either been renovated or added to the old structure. Further inside is a huge den. What's breathtaking is the window stretching across the whole length of the den—it allows a breathtaking view of the mountains.
The whole house feels quite cozy and homey. However, the problem with a wooden house is that there are so many sounds one hears at night, especially when most of the sounds die down. Doors creak even when they stay shut, footsteps are heard outside the bedroom when there's suppose to be no one there, switches click even when the lights stay off. One of us swears she heard voices whispering in the bathroom hallway and assumed it was us; when she looked up from the bed, she saw us fast asleep in our own mattresses. Luckily I was super-
dedma
to any creaking or shuffling of feet I personally heard; I was too tired to be bothered, since I was driving on the way up and the whole time we were there.
McPyro

In the den is a fireplace. We bought two bundles of firewood, but the wood in one of them was damp. I had a crash course in Making Fire 101. I figured out how to position the wood so that the fire can go up really high. Soon we have a huge fire going—at one point it became too hot for toasting marshmallows, so we had to wait until the fire died down a bit.
Driving Me Baguio

The last time I was up in Baguio was for the Advertising Congress two years ago. Still, when we got there it was so easy for me to remember the different routes around the city. My god, I think I was a taxi driver in Baguio in my previous life!
Eats Ruined!

Café By The Ruins is one of my all-time favorite restaurants. It's a little pricey and the choices are limited, but it's like comfort food—it can't do wrong. So imagine my disappointment when I found out they weren't serving strawberry soda anymore (it's not even in the menu). Argh! But the strawberries and cream was heavenly.
We Got It All For You!

SM Baguio is my favorite SM I've seen so far (I've only been to most SMs in Metro Manila, and I've seen SM Cebu from the outside). What I love about the building is that they made use of the environment and made it open-air, so there's no need for centralized airconditioning. Plus because it's nestled on top of the mountain, they constructed verandas all over so that one can enjoy the view of the whole of Baguio. Of course most people would use the view as backdrop for their photo ops.
While I was framing one of my shots, I noticed someone was within the frame. I was thinking of moving him off-frame when my phone started ringing. I took the shot, picked up my phone and noticed the missed call.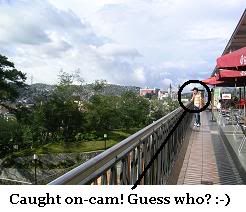 Oh my—it's __________, a regular viewer of The McVie Show! For so many months we kept promising each other, "Let's meet over coffee" but we couldn't get our schedules to match. So imagine our surprise that instead of in Manila we ended up meeting in the flesh for the first time in Baguio.
I managed to catch him on camera, but he requested that I keep his identity a secret. So…
secret!